ABOUT US
Our group has been widely involved in construction from 20 years. It has been a pleasure serving hundreds of customers and we are thrilled to serve many more in the future. Our group provides services through both contracting and real estate. We feel happy when we say that we have shown our skill and commitment towards the construction industry, which is reflected through a wide range of Projects like Schools, Hostels, Five Star Hotels, IT Parks, Commercial Spaces and Residential Buildings.
Our love in what we do has made it possible for us to flourish into a group which can take credit for some landmark projects in PUNE.
---
COMPANY INFORMATION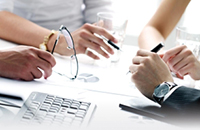 Deore Constructions and Jadhav-Deore Associates is one of the leading Engineers, Promoter & Builders organization in Pune ESTD since 1998 in the field of real estate & construction.
Till date, Deore Group has developed many of commercial and residential projects across Pune, Solapur and Lonavala. Each of these projects stands testimony to our penchant for quality and reliability. Deore Group stands for a value system that is put into practice in its construction quality, progressive design and proactive customer service.
---
OUR VALUES

We stand by to improve the quality and maintain it. We understand the consequence of every action taken by us. Innovation that will improve the work process so that we can produce the best and result respecting the ecology and help balance the life cycle.
OUR VISION

To be one of the leading company's in the business that builds what really matters. To add a large number of satisfied customer base to the already existing one. To improve the already efficient staff so that they deliver according to the companies vision.Broaden the focus of work and foresee the ways to improve customer experience.
---